Buy to let news sees business getting worse for many British landlords despite rent levels being strong. House price growth is slowing, or indeed property values falling, so that buying is looking up but selling is a problem. Also buy-to-let mortgages are getting harder and tax benefits are declining.
This gloom news had mostly related to more speculative Buy To Let landlords who were mostly new entrants of recent years and paying high mortgage rates, and could not raise their rents to cover the mortgage payments. This generally means that the BTL that they took on was not a profitable investment to make at the time, and they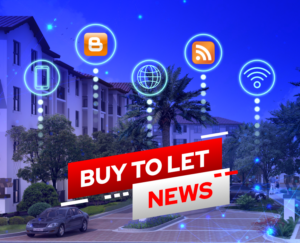 had not appraised it properly before taking it on – something that buy to let news has previously warned about. 
UK home ownership has now sunk to its lowest level since 1987, and reflecting this private renting and rent levels are now strong. And lenders are now providing relatively cheap loans, so that Buy To Let should now be a good investment option. But due chiefly to tax increases and mortgage tightening, UK Buy To Let is becoming much less attractive in 2019, with some now exiting while many others are raising rents strongly with the main problem in areas with the highest house prices. This could soon become a major UK housing problem.
Currently low interest rates, are good for first time buying in 2019 with a mortgage. But house prices may fall back and mortgage loan interest rates should at some point rise. Right now is a good time for buying property to let with cash or on a good longer-term fixed rate loan, especially as rent levels should also hold up well. And if you are after a new mortgage then now is a good time to go for a longer-term fixed rate mortgage rather than a variable rate or tracker mortgage whose cost might well soon rise sharply.
Buy to let news has always recommended buying property wisely and if needed borrowing wisely, neither of which may be easy. As Buy To Let is a medium term to long term business, short term advantages to a loan may be of little help and it is the longer term loan cost that will usually matter most. But lenders often use short term loan advantages to attract, and play down the longer term loan cost, as with many 'fixed rate' loans.
Those with existing property portfolios may well have been accustomed to raising increased loans based on increasing property values. Doubts of property values continuing to increase may make that a problem now, and may require loans to be on rent incomes instead. Lenders also have tended to draw up the financial drawbridge to restrict loans perhaps unfairly and are more readily demanding their money back also perhaps unfairly. So loans for Buy To Let landlords have become more problematic. Also from 1 October 2018, any property in England or Wales let to five or more tenants from two or more households requires a houses-in-multiple-occupation HMO License costing around £500 a property – as has already applied to some since 2015.

The Housing Act 1988 new restrictive section 21 assured shorthold eviction notice rules that applied to some tenancies from 1 October 2015, applies to all tenancies from 1 October 2018. Also, in difficult times the best of tenants may lose their jobs and have to apply for housing benefit welfare to pay their rent and this may involve some rent delay. But once this is in place it should make rent more secure. Some local authorities in England will consider paying a landlord directly where there is evidence that the tenant is unlikely to pay their rent. Whereby 'making direct payments would be in the interests of the tenant.' Where arrears of benefit have reached 8 weeks, the local authority is more likely to agree to make direct payments. However conversely 'unless it is not in the tenant's overriding interests to do so.' However, landlords should not wait for the 8 week period to be reached before contacting the local authority.
If you are thinking of renting out for the first time a house that has an existing mortgage and/or insurance, then you should tell the mortgage company and/or insurance company. If you do not then you risk the mortgage and/or the insurance. Some mortgage lenders and insurers will allow you to remain on the same rates, but others may want to switch you onto their buy-to-let rates (which may be somewhat higher). However a buy to let and/or HMO mortgage is a higher risk than a residential mortgage. Given that banks and building societies currently pay very little interest buy-to-let and HMO property investing remain a viable option. First published 2019 – Buy to let news