Becoming a successful student landlord requires as much thought to a presentable Buy-to-let or HMO property as it does to the ongoing administration. The student landlord will be a different animal to a professional landlord. Until recently it was a common misconception that students were content to forego luxury. Student lets are light years away from when Rik, Vivian and Neil rented their student property from their Russian landlord Jerzy Balowski. Students are now, rightfully, more demanding and commensurate with the rents paid for their HMO property. Encouraging students to create 'environments'  and 'acclimatise' to university life sustains a mutual trust. Any individual in rented property, student or otherwise, needs to feel 'settled'.
Student Landlord needs to be 'Student Ready'
The student landlord needs to be student ready. While your HMO student let will require compulsory improvements other lifestyle add ons need to be considered. Broadband must be enabled prior to the students arrival, a student lettings property without internet is a non starter. Alternatively having broadband installed will typically take 4-6 weeks and makes for a fractious start to the tenancy. Given the low cost of smart TV's does the student landlord equip each room with a TV or rely on a wide screen in the communal area. Having one large TV encourages the community feel and interaction. Many students like to have their plans finalised by January i.e. the start of the new academic term. The more determined and organised students will start to get a feel for student housing around October. Peak viewing times are January to March.
Student landlord Insurance should have 120 days unoccupancy cover
Student landlord insurance is naturally not the same as home insurance. There are a number of options available including tenants liability insurance. It will also be a major consideration to purchase rent guarantee insurance which does what it says on the tin. This insurance guarantees your rent should tenants default. Thought then has to be given to managing the property yourself (self managed) or do you use a letting agent. Remember student lettings will invariably generate more administration and maintenance than a family or professional let. Lengthy consideration needs to be given as to whether you genuinely have the time to manage yourself. However you may have a full time occupation and/or you may decide to get on with your good at and pay an agent.
Student lettings can attract onerous agent fees of up to 20%
While the agent fees will affect your yield/profit the student landlord does consider it an onerous cost. While these costs are tax deductible as well as student landlord insurance and capital costs many resent agent charges. There are different options re: charges the first being a let-only service. This charge is a one off fee typically equivalent to approximately 4 weeks rent. Full property management can be a breathtaking 10 to 20% of the monthly rent. Agent fees in London are even more eye watering. This compounded by the omnipresent 'set up' or 'administration' charge. Though the student landlord needs to strongly consider that if the property is recently refurbished maintenance will be negligible. Therefore does any landlord, HMO or otherwise, wish to pay a letting agent £400 pcm to have direct debits processed.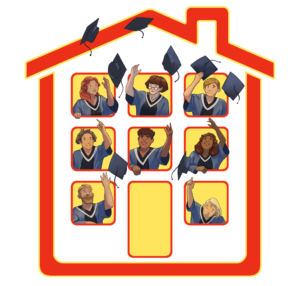 It is further worth considering that The Tenant Fees Act 2019 came into force on 1 June 2019. This means tenant fees are now banned inclusive those applied to AST's and student lettings. The loss of these fees may well see some agents becoming more creative. Landlords will still be able to charge fees for late rent or lost keys. While The Tenant Fees Act is widely seen as a positive landlords need not carry the losses of the agents. The most innovative agents will embrace technology to enhance their offering. Pay as you go packages have been promoted that are as little as £100. These services include rent collection for twelve months, tenancy documents, deposit lodging and running adverts on major platforms such as Rightmove and Zoopla. Online letting agents do not carry the expense of high street agents and are very competitive.
Timing is everything so make sure your property is fully renovated and rentable prior to students viewing. The last thing any student landlord wants is a pristine rental property that is empty for a year. Prior to renovating and marketing you'll need to have your 'legals' in order. Ensure agreements and contracts are in order before finding tenants. There are many templates available online while some universities may also provide a standardised tenancy agreement. This ensures the wellbeing of students, remember any additional information will have to be noted in the agreement as per an annexe. Ensure that every student has a financial guarantor in place, required alongside the tenancy agreement. Any security or deposit requested will need to be lodged with 1 of 3 regulated/approved schemes (Mydeposits, Deposit Protection Service, TDS (Tenancy Deposit Scheme)).
Tenant deposits gives the student landlord some measure of security. A deposit essentially covers property damage and/or if the tenant disappears. Any deposit must be protected by a government approved scheme. If a deposit is not protected within an approved scheme tenants can take court action to recover their deposit. A landlord can be ordered to pay up to 3 times the amount of the original deposit. If a deposit is unprotected a landlord can not evict tenants using a Section 21 notice. Evaluate a property and draw up an inventory. An inventory confirms the condition of any fixtures, fittings and furnishings. Photographs can also be taken along with videos. Encourage students to sign off the inventory at their earliest convenience, this minimises the risk of tenancy disputes. A thought often overlooked, without over complicating, is details of where the Water stop cock is along with gas and electricity isolators.