Buy To Let mortgages and HMO property Hotspots continue to evolve year on year. Recently the shift toward HMO property hotspots, post pandemic, has been towards the North east/west. Our web visitors are a cross section of typically Buy To Let and HMO investors researching suitable HMO property hotspots and industry news on buy to let mortgages. Many are first-time investors, while others are looking to add new properties to their existing portfolios. Buy To Let investors are often less concerned about location or property detail, and are more likely to buy more than one property. They are likely to be concerned more about finance detail and suitable loans.
HMO Property Hotspots updated
There is a plethora of tools now available for a more informed investor inclusive data on HMO property hotspots. Within proximity of a university is naturally one of the first boxes to tick. Location when it comes to HMO isn't critical unless you feel more comfortable being within close proximity. Taking a comparison of extremes two cities spring to mind, that being Bath and Birmingham. Birmingham is an evergreen sprawling favourite with excellent access surrounded by motorways on all sides and home to 8 universities and 80,000 students. Bath has a population of 107,000 and is a relatively small city of only 11 square miles. The student population has a ratio of 1 to 4 (residents) and 2 universities. The average cost of property in Bath is around £540,000 thus substantially reducing rental yield.
The average price of property in Birmingham is £236,000 well under half the price of property in Bath. Considering these 2 cities are only 100 miles apart this is some discrepancy. Birmingham is 103 square miles and the university of Birmingham alone has 36,000 students. The main key areas directly surrounding Birmingham University are Selly Oak, Moseley, Bournville, Harborne and Edgbaston. Transport links have these areas all within 15 minutes of the Edgbaston campus. Coventry is also a city that has gone largely under the radar with average prices around £232,000. There are around  35,000 students attending each year and The University of Warwick is in close proximity.
Coventry has become an excellent city to invest in and has been named as one of the top 5 student cities (QS Best Student Cities Index 2021). Coventry is also in the top 30 universities in the world for international students. The favoured student areas in Coventry are Hillfields, Earlsdon, Spon End, Lower Coundon and Chapelfields. Hillfields is the location of the majority of student halls and within touching distance of the university. Earlsdon houses a large majority of students from both universities so could be viewed as a win-win for the investor.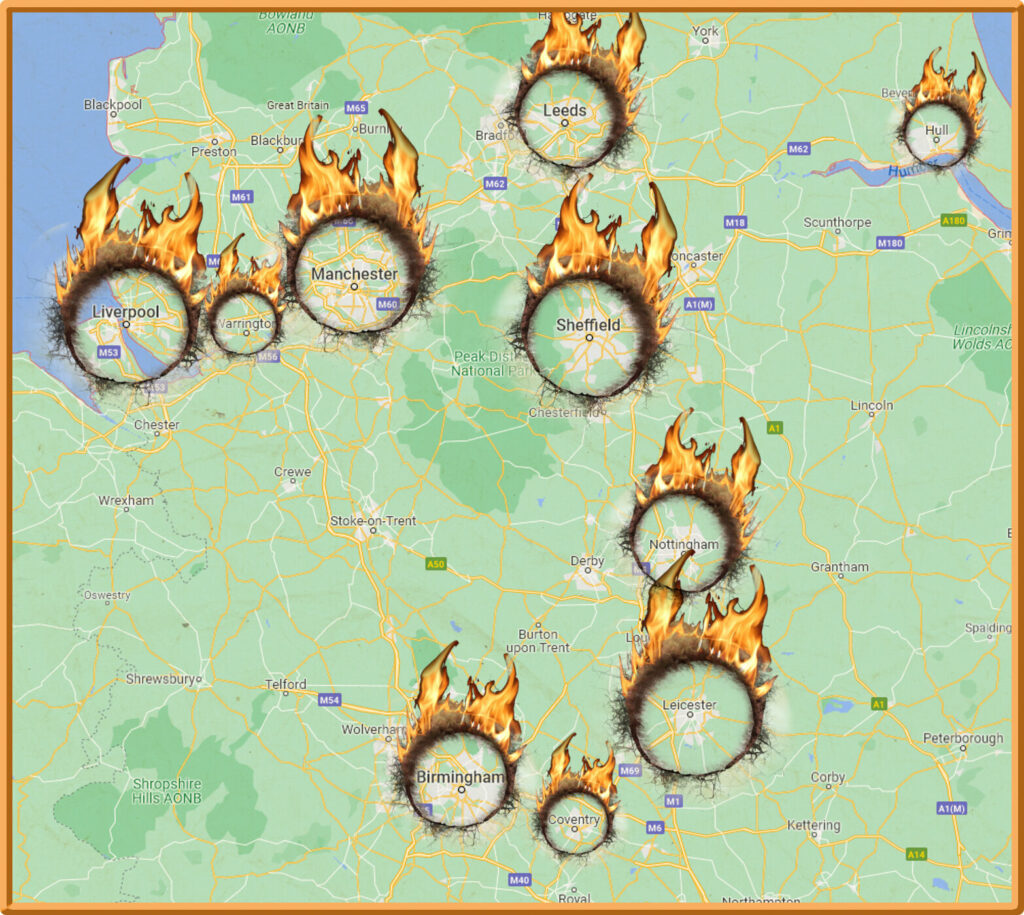 While it may not necessarily be within walking distance it is equidistant to both universities. Lower Coundon has enjoyed growing popularity and is about a 20 minute walk from the universities, served by a Morrisons supermarket. Spon End may not be the most popular residential area but is only a 10 minute walk from the university. Chapelfields again is very popular with both university students and is around a 25 minute walk to both. While there are few shops it is within walking distance to major supermarkets.
The amount of buy-to-let landlords in the UK has reached an all time high of 2.7M. This is a rise of 49% over the last 5 years from 1.8M. Despite the tax changes over the past few years investors and landlords have found ways to adapt. The benefits of the Stamp Duty holiday has also seen an increase in demand from first time buy-to-let investors. Low mortgage interest rates have also encouraged the increased interest. Property has not only remained more stable than stocks and shares but is also seeing some spectacular gains.
Buy to Let Mortgages sees first sub 1% product
Evidenced by Nationwide launching the UK's first ever sub 1% buy-to-let mortgage product. Both retail borrowers and landlords will now benefit from the lowest rates ever. The product is a 2 year fixed rate but is a 65% loan to value (LTV) at 0.99%. Deposit required is therefore 35% and the product does attract a 2% fee over and above the loan amount.  Nationwide has also made rate cuts up to 0.45% across it's 5 year fixed buy to let mortgages. The buy-to-let market remains fluid and a rate war may well be underway. Landlords and investors though will be well advised to investigate the true cost before committing.
Landlords though will still be liable for a 3% stamp duty levy for their BTL property, re: Buy to Let Stamp Duty Calculator. . There are though still hurdles to consider prior to investing. While the rates for the buy-to-let mortgages are positive in the main the ongoing supply and demand crisis may well scupper the incentive in part.  If there is limited stock to invest in the scenario only becomes frustrating to lender and investor alike. The rate of construction remains low and behind targets. According to the ONS there was a 10% lag in homes completed in Q2 2021. This was compounded by a further 5% dip of home builds commenced by developers. This suggests there are no signs of easing.
However build to rent numbers appear to have bucked the trend in areas away from London. The build-to-rent sector has seen exponential growth in recent years. This sector caters specifically to the needs of private tenants. Ironically while rental yields in London have fallen away over slightly in recent months the momentum was initially fuelled by developments in London. The capital is now taking a back seat to other parts of the country. According to latest figures there were 63,950 homes completed in the sector.   There are furthermore a 42,000 build-to-rent properties under construction. Some 99,500 built-to-rent homes are  in the pipeline.
In areas such as Liverpool, Brighton and Manchester build-to-rent construction are standout areas. In Q3 2021 12,000 homebuilds commenced. Within the capital 19 schemes began and 43 schemes commenced elsewhere. Nationwide has undercut Platform (Co-operative Bank intermediary arm) which launched it's own 1% buy-to-let mortgage deal this week. The criteria for buy to let mortgage deals remain much the same but with the more favourable rates requiring up to a 35% deposit.
Rental income still remains typical across the board at around 125% of your mortgage payment (rental yield). For higher tax payers though this may well need to be 145% rental income or yield. Some lenders will still insist on a minimum income of £25,000. A 20% deposit is still preferred and a larger deposit will secure a more preferred rate. Some lenders will insist on a minimum age of 25 and to hold a residential mortgage. While there are now some lenders who will consider first time investor  HMO mortgages can sometimes be difficult to tap.