You will find people who are passionate about auctions, but also people who would never want to attend one. If you are considering buying a property which is up for auction, it is important that you understand the process and the associated risks of auction finance. Auctions are actually quite popular in the UK because they offer an opportunity to buy properties at a lower price than they would be if sold privately. Auctioneers are specialists in their field and have expertise with this type of sale. They can help buyers by providing guidance (Guide Prices) that may or may not meet your expectations. However remember to do research in respect of pre approval for financing.
How to secure Auction Finance on Auction Property
An auction mortgage is a type of mortgage that can be offered by specialist lenders for buyers of unregistered properties at auctions where there is often no time for a full valuation such as a home buyers report, AIPs and the mortgage offer process. If you are looking for an auction loan, it is important to understand what makes them different than other finance options. Auction finance is a type of property finance that many property buyers often neglect and overlook. It can be difficult to find the best option for you or know how much you should be borrowing in advance. Auctions are becoming increasingly popular as a way to secure property. The main reasons for this is that they offer an opportunity to bag a bargain.
Traditional lender or specialist bridging loan provider
Different types of auction finance exist, from mortgages from traditional lenders or through a bridging loan from specialist providers. Auction financing is typically more expensive than other types of loans because it is considered riskier for banks and finance institutions. Auctions are a great way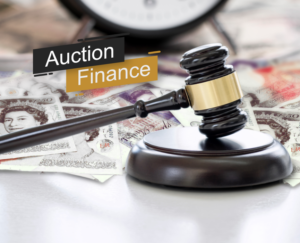 to find quality property at prices that are often low. Though the challenge can be the correlation between fervent bidding and remaining disciplined throughout the bidding process. This is why many people turn to auction finance, which can help them bid for property without breaking the bank.
An auction finance mortgage allows you to buy a property at auction with a fixed rate of interest, repayable over a fixed period, typically 12 to 24 months. The lender may be willing to offer an auction finance mortgage if you have poor credit but have sufficient income and assets. Remember it will not be conditional (majority of lenders) that you see your loan term out. Redeeming the loan early provides an excellent incentive to complete any refurbishment works and exit out to a standard mortgage. It's therefore no surprise that the property industry remains on an upward trend. More people are investing in property which out performs the stock market year on year.
Managing Property Auction Risk
The auction process is a great way of finding a bargain but it also, inherently, brings many risks. While this market is considered 'speculative' it is therefore imperative that consumers are fully armed and fore warned. In order to ensure that you are informed prior to bidding on auction property we will be producing a comprehensive bridging loan guide. How to finance an auction property, and also buying at auction with bad credit bridging loans.
The loans are typically offered at a higher interest rate due to the 'perceived' high risk involved. However, the rates are still lower than those of many other loans. There are some instances where you can make use of your auction property for collateral on a loan. For example, some lenders will offer bridging loans which have conditions that allow them to be repaid over a short period of time. There are three ways to finance an auction property. This article will discuss how to finance an auction property and give you some tips on bridging loan rates and lenders.
Finance auctions: Bridging loans and auction mortgages
Bridging loan rates: If people have bad credit this can sometimes be overlooked if the loan to value is low. If 75% is required coupled with 'adverse' credit this will invariably attract a higher bridging loan rate. The auction process is more common in the UK than in other countries. Auction finance, or bridging loans, are likely to be the best methods to finance an auction property. Bridging loans are short-term loans for consumers/investors who need money quickly. They are more expensive than traditional mortgages but they are more flexible. The commercial finance broker will provide some pre-screening of the borrower's credit worthiness and capacity to repay the loan, which helps to minimise risk with the application.
Buying at auction is much more affordable and far less complicated than years ago given those lenders who have entered the market along with a healthy appetite to lend. This article covers how, when and why to finance an auction property and gives you some tips on what to do if you've got bad credit and/or are experiencing other difficulties.
Non Status Auction Finance For A Workaround
Auction financing is also an option for those who are unable to obtain traditional mortgages because of their poor credit history. There remains some weight on the bridging loans applicant if a fast turn around is required. Prior to application the standard documents are critical such as ID, utility bill and proof of residency. It is also advisable to check your credit score with CRA's though there are a number of free options currently available. The good news is that there are means and methods now widely available to raising finance for an auction property. An auction remains an excellent tool to buy a property.
Auction finance is the most common way to fund an auction purchase, but there is more than one way to do it. If you have good credit and don't need any help with arranging funds, then your bank or building society is likely to offer you a bridging loan. If your credit isn't so good or you need money quickly, then an auction mortgage may be the best option. For those with poor credit who want to buy using an auction mortgage (non status) a specialist lender is invariably the preferred route.
Bridging Loans: The most popular method of auction finance.
The process for both is very straightforward and starts with arranging an auction mortgage assessment or bridging loan assessment. This will allow the borrower to find out whether they are eligible for an auction mortgage or bridging loan, as well as determining their borrowing limit. For status borrowing the borrower will need to provide evidence of their income and savings, as well as details about any other loans they may have, before they can proceed with the application process.
If you are keen to buy a house, but do not have the money in your bank account for it, you may be in luck. Auctions can provide the perfect opportunity for people with no proof of income or poor credit to buy a property. It is often cheaper than securing a mortgage through a traditional lender and can be more flexible than other types of financing available.
The process of buying at auction is fairly straightforward and there are many companies that offer financial assistance when they need it. No matter what your credit status is, you can still finance an auction property and enjoy the benefits that come with it. Auction finance is a solution that can be used by lenders to lend money for auction property purchases. These lenders consider the property as collateral. The rates depend on the creditworthiness of the individual applying for the loan, and these rates are typically higher than for normal mortgage loans.
Auction financing can be provided by specialist providers or traditional banks, with the latter often offering their own version of an auction finance product. Banks/High street lenders will typically base their decision on your credit score and your monthly income in order to decide whether you are eligible for their product. The majority of auctions will typically require the purchase to complete within 28 days. Numerous auction houses have recorded record sales in the past couple of years. The property values recorded by Savills in 2020 was 40% higher than the same period in 2019. Other auction houses report the number of bidders increasing by over 50%.
The average UK house price was £266,000 in June 2021; this is £31,000 higher than in June 2020 (Figure 2). On a non-seasonally adjusted basis, average house prices in the UK increased by 4.5% between May and June 2021, compared with an increase of 1.4% in the same period a year ago*